Due to the humble beginnings of this site, I will be doing sponsor swaps until Elemental Carbon grows a bit more.
First, a little background: Elemental Carbon is a DIY & crafting blog with a little bit of lifestyle sprinkled in. As of March 2013, I have had over 155,000 pageviews! (Contact me for even more statistics).
I use Passionfruit to do my sponsor swaps. If you are interested in swapping buttons for free, please e-mail me at elementalcarbon12[at]gmail.com for more details.
In addition, if you have a blog, shop, or talent that you want to promote, please consider Elemental Carbon! I would be thrilled and honored to support any blog or business through reviews, giveaways, or guest posts. Please do not hesitate to contact m

e about this.
Now for the not-so-fun technical stuff: I have the right to refuse your ad if I feel that you are not a good fit for Elemental Carbon. In addition, I will not hesitate to remove your swapped button if mine does not appear on your blog! This is a one-for-one deal that we can both benefit from! I'd hate for other bloggers to lose an opportunity for a swap spot to an unfair trade.
250x200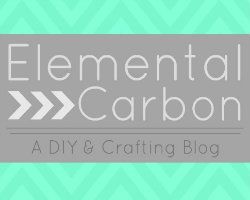 Pin It